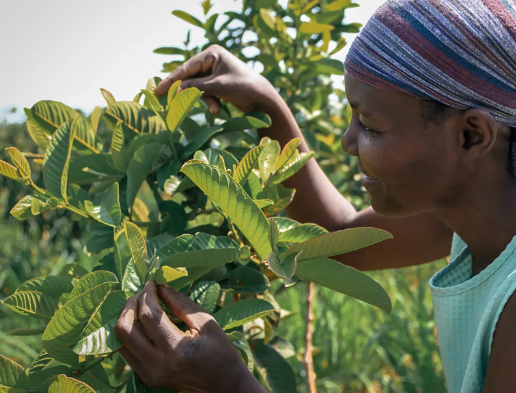 Sprouts
Stories of change and empowerment
"We can't change people, but we can plant seeds that may one day bloom in them"
Sprouts - stories of Change and Empowerment is a new video series by the Italian Agency for Development Cooperation (Aics) Nairobi that aims to give voice to the people.
Through cooperation initiatives, the actors composing the Italian system of development cooperation have contributed to planting a seed in their lives, a seed which in many cases grew into something beautiful and is having a long-lasting positive impact on many communities.
We want these people to be protagonists of their own stories, which inspire both our work and the lives of other people.
Dr. Washington Njogu
Director of Medical Services at Ruaraka Uhai Neema Hospital, Nairobi
Dr. Njogu studied medicine at the University of Perugia and then came back to Kenya. Born from the desire and commitment of an Italian NGO, World Friends – an association that has made the defence of the right to health of men, women and children its mission – Ruaraka Uhai Neema Hospital is now a multi-purpose structure, able to assist over 100 thousand patients every year, with a general surgery, specialist clinics, emergency services, maternity and pediatric departments, laboratory, pharmacy, physiotherapy, radiology, general surgery, pediatric, orthopaedic-corrective, obstetric-gynaecological, health education services and nutrition offered both within the hospital and on the territory.
"For the young people, I think I'd advise them to follow their dreams! My dream was to study medicine, I was given that chance and now I'm happy of what I do"
Dr. Njogu's commitment to providing quality health services for those who come from the informal settlements of Nairobi is not just coming from his job, but it is coming from the firm belief that health should not be the privilege of a few, but a right for everyone. He truly is an example of change, an example of how the Italian Cooperation planted a seed that has now grown into a beautiful tree!
Julius Mwelu
Photographer and founder at Mwelu Foundation, Mathare
Julius Mwelu received a small contribution from the Italian Cooperation at the end of the 90s. Thanks to this little support, Julius founded and is still the head of the Mwelu Foundation, which operates in the informal settlement of Mathare, Nairobi. Mathare is one of the poorest settlements in the country, with high crime rates and very difficult living conditions. The Foundation takes care of teaching the art of photography to the young and very young of Mathare, with theoretical classes and practical sections. Julius's goal is to have its own structure and create a library, a safe and dignified place where the slum kids can study and meet.
"We used to see our brothers shooting with guns in the slum. We wanted to change this. Now they are still shooting, but with cameras and not with guns."
Julius decided to pursue his passion for photography and use it as a means to change the society around him. In the informal settlement of Mathare, a no-go zone for tourists or outsiders, the Mwelu Foundation provides a safe space for youths to learn skills that will help them in their future life.