Nairobi - On 21 February 2018, at the AICS Nairobi office, a press conference was held to present the call for particiaption to the E4Impact business incubator. The event was attended by the Italian Ambassador to Kenya Mauro Massoni, Head of the AICS Nairobi Office Teresa Savanella, the manager of E4Impact for East Africa David Cheboryot and the marketing director of the Standard Media Group Doreen Mbaya.
The incubator, co-funded by the Agency and implemented by the Università cattolica del Sacro Cuore in Milan and by the E4Impact - Nairobi Foundation is a business incubator and accelerator aimed at promoting entrepreneurship in Kenya, thus creating employment opportunities for young people and to foistering the internationalization of new businesses. The incubator will provide start-up and scaling-up support to the selected best ideas or companies, giving particular attention to women employment and activities with high socio-environmental impact.
Ms. Savanella underlined how such initiatives, which link public, private and research actors, can be of great support for those who, despite having a potentially creative and attractive entrepreneurial idea, can not find opportunities to develop their own project.
The deadline for the applications submission is set for March 23, 2018. By 30 April 2018 will be selected the best 20 projects ideas that will take advantage of the services of the accelerator.
The incubator represents an implementation of the so-called "triple helix approach" that links that relates the three main actors involved in innovative processes - universities/research institutions, entreprises and institutions - to the new concept of development defined by the 2030 Agenda that gives a fundamental role to the private sector and to the growth of a local entrepreneurial class. In this perspective, two public entities are partners of the initiative - the Jomo Kenyatta University of Agriculture and Technology (JKUAT) and the Micro Enterprise Support Program Trust (MESPT) belonging to the Ministry of Industry - and two private actors - the Tangaza University College (TUC) and the Kenyan National Chamber of Commerce and Industry (KNCCI).
Among its services, the incubator will provide to participants market analysis, and place the entreprises within a network of national and international contacts, in particular Italian ones, for future investments and operational partnerships.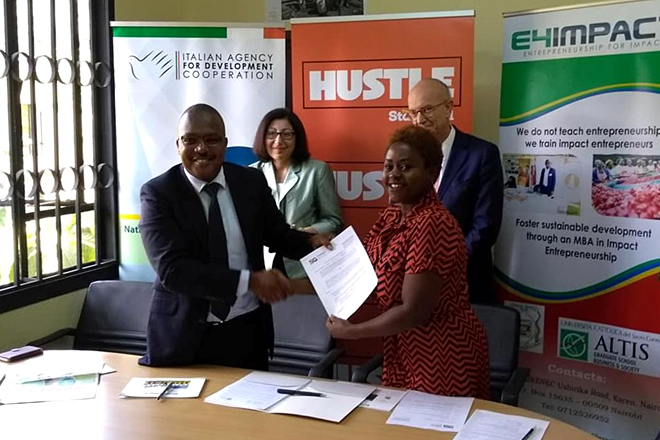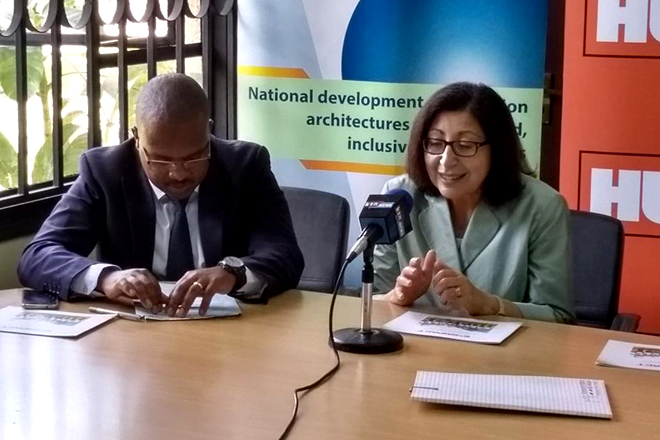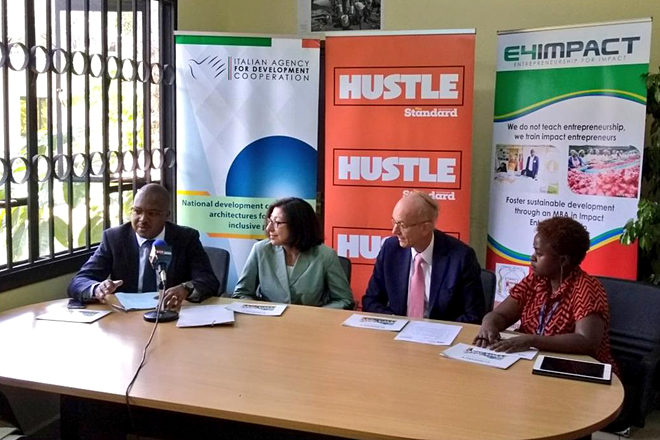 Foto: @E4Impact via Twitter